Assembly 4.0 with laser projection
At Motek, October 7-10, hall 3/booth 3412, LAP is presenting the ASSEMBLY PRO assistance system for digital assembly in Industry 4.0. This laser-based system enables substantial time savings, and minimizes errors in manual assembly processes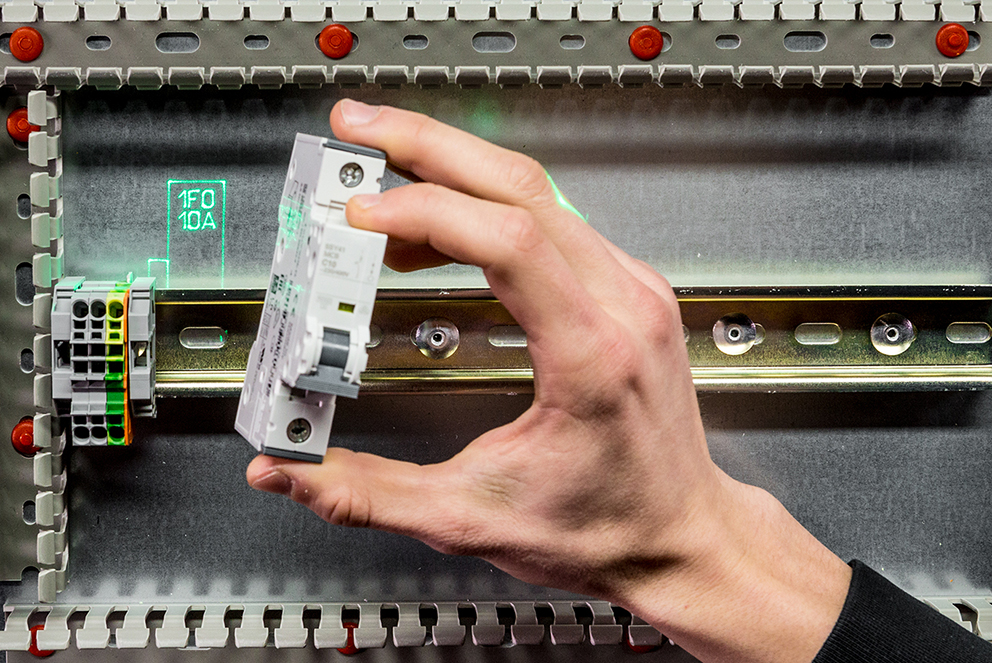 LAP demonstrates live scenarios for digitalization in worker guidance at Motek
At the LAP booth, visitors can experience three different real-world scenarios: laser-assisted control cabinet assembly, a pick-by-laser application combined with a ultrasound user guidance system, and a workstation with a laser projector for manual assembly in automotive manufacturing.
More efficient control cabinet assembly
At Motek, LAP is giving live demonstrations of the use of the ASSEMBLY PRO system for boosting the efficiency of control cabinet assembly. CAD-PRO laser projectors project the e-plan and installation positions of terminals, cable channels, and wiring routes directly onto the assembly plate. This visual positioning aid helps workers, especially with complex assembly processes. "ASSEMBLY PRO simplifies and significantly accelerates time-consuming manual assembly processes like mechanical installation and wiring. Laser-based assembly assistance systems can make control cabinet production up to 30 percent more efficient. This enables economical manufacturing even of small series," explains Pierre Mehn, marketing director at LAP.
Laser-supported automobile assembly in the smart factory
LAP is demonstrating the integration of the assistance system into the control level of the "Digital Factory" using an assembly process in automotive manufacturing. In a practice project with Leuphana University of Lüneburg, Germany, a manual assembly station with a laser assistance system was developed and integrated into the control level of the Digital Factory. The worker interacts with the ASSEMBLY PRO system, which guides him or her step by step through the process of to-order assembly. The highlight is that by using a model car, visitors can test firsthand the application possibilities of ASSEMBLY PRO in automotive manufacture.
Component assembly in multi-variant production
At a third station, there is a pick-by-laser application combined with a Sarissa ultrasound user guidance system. Using pen manufacture as an example, visitors can see how the laser projection system shows the correct picking position in order fulfillment and assembly sequences. Using the projected work instructions, visitors can individually configure and assemble ballpoint pens.
Economical digitalization with laser projection
Laser projection systems offer clear advantages that help also SMEs implement digitalized worker guidance. Unlike augmented reality (AR) data goggles, there are no issues around wearing comfort, hygiene, or battery life. The learning curve is fast. Assembly workplaces can be equipped with CAD-PRO laser projectors at reasonable cost. With the CAD-PRO compact, LAP is offering an especially light and compact model at the show. This "little brother" of CAD-PRO is energy-saving and quiet, and can be installed with one hand over the worktable. The functions of the system can be extended in combination with LAP's DTEC-PRO camera system."We're looking forward to talking to manufacturers who want to make their assembly processes more efficient," says Pierre Mehn.
Visit LAP at Motek from October 7–10, 2019 in Stuttgart, in hall 3/booth 3412.
Further live demonstrations of CAD-PRO laser projectors by LAP will take place at the booths of Sarissa GmbH (hall 5, booth 5410) and nexonar - soft2tec GmbH (hall 7, booth 73089).
Dunja Kandel
Marketing Manager
LAP GmbH Laser Applikationen
Zeppelinstr. 23
21337 Lüneburg
Germany