ASSEMBLY PRO live at MOTEK SHOW
At MOTEK, LAP product manager Steffen Gärtner explains the laser-based worker assistence system ASSEMBLY PRO in a video interview published by the "PRODUKTION" magazine (text in German, starting 04:18).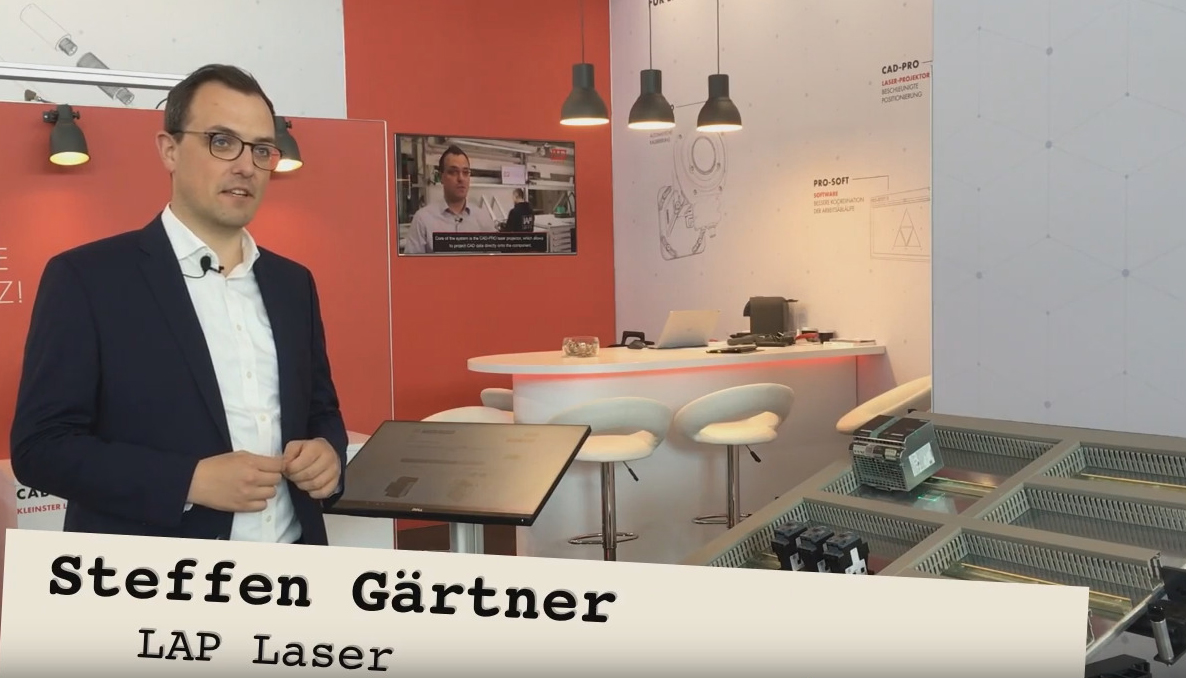 With ASSEMBLY PRO, LAP presented a solution for worker guidance in Industry 4.0. ASSEMBLY PRO is a laser-based assistance system which effectively supports workers in manual assembly processes. Visitors to the LAP stand could experience two live demonstrations at once: laser assistance for control cabinet construction and a "pick by laser" application for multivariant production processes. Particularly small and medium-sized companies with predominantly customized manufacture can significantly increase their efficiency potential using the system.
In control cabinet construction, the process cost component can be as much as 80 percent. With a laser-based assembly assistance system, the time required for activities such as fitting and wiring can be reduced by up to 30 percent," explains Steffen Gärtner, product manager for ASSEMBLY PRO at LAP. Based on CAD data, the laser projection system shows the exact assembly position directly on the assembly plate. This makes manual assembly more efficient: from setting the boreholes on the assembly plate to positioning the clamps and displaying the wiring information. The worker guidance software takes the user reliably through all the working steps. Additional assembly instructions can be visualized on the monitor. For quality control, the installer receives feedback about the correct execution of the assembly steps. In addition, different experience levels can be set in the worker guidance software, so that even inexperienced installers can quickly work confidently with the system.
"Pick-by-laser" for assembly processes in multi-variant production
"ASSEMBLY PRO has considerable advantages, specifically for multivariant production," explains Steffen Gärtner. These are demonstrated live by LAP at the trade fair stand, using digital ballpoint pen manufacture as an example. ASSEMBLY PRO helps installers with extracting the correct component and assembly by means of "pick-by-laser". At the commissioning station, the CAD-PRO laser projector indicates the compartment from which the respective component should be taken and how it should be assembled. At the assembly workplace, additional assembly instructions are projected directly into the working area. Important information is available exactly where it is needed. This supports ergonomic working and enables accelerated working processes with fewer errors. As a result, companies can enhance the efficiency of manual production, even for small batch sizes and large numbers of variants.
Dunja Kandel
Marketing Manager
LAP GmbH Laser Applikationen
Zeppelinstr. 23
21337 Lueneburg