Successful industrial exhibition at ASTRO: Great interest in LAP QA Portfolio
At ASTRO, the world's largest congress for radiation therapy, LAP will present the latest developments in the fields of medical technology, quality assurance and lasers in Chicago.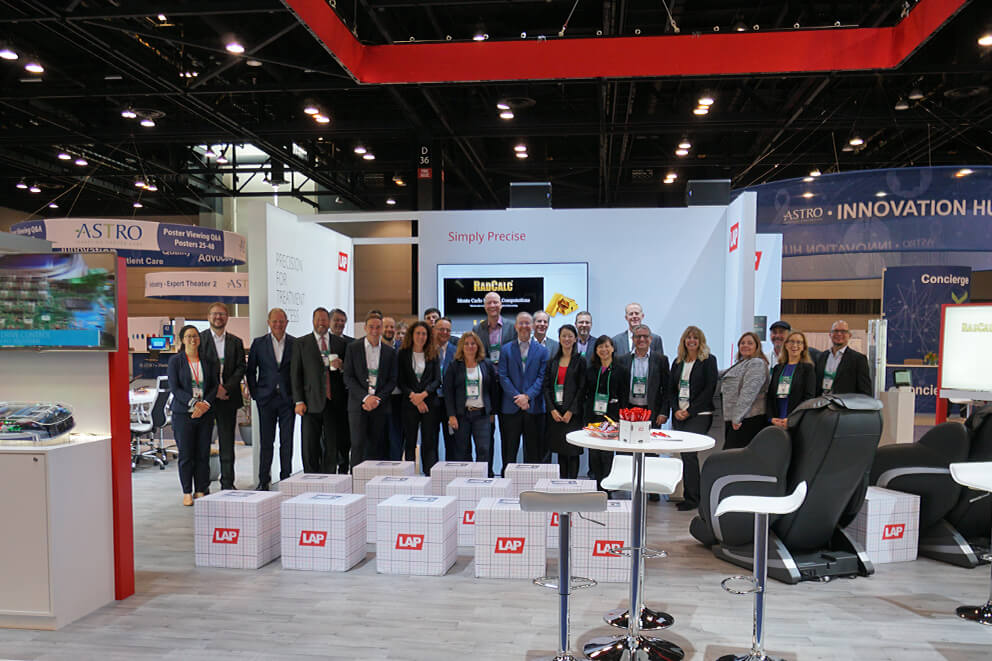 The annual meeting of the American Society for Radiation Oncology (ASTRO) is the industry's most important meeting worldwide. Specialists and professionals from the fields of oncology, medical physics and medical technology meet every year in the USA for the congress and the industry exhibition. LAP presented a comprehensive quality assurance portfolio for the workflow in radiation therapy on a 140 sqm booth.

For more than 10 years, LAP has been the market leader for laser systems in radiation therapy and an industry exhibitor at ASTRO. LAP is constantly expanding its range of quality assurance products to offer medical physicists efficient and simple solutions from a single source.

New RadCalc software modules demonstrated live

The software company LifeLine with its flagship product RadCalc, acquired at the beginning of the year, was represented with five software stations at the LAP booth. Three new RadCalc modules, which are expected at the end of the year, could be tested live at the fair. The future 3D software package will enable different volume verifications of therapy planning systems. A manufacturer-independent second check is carried out quickly and reliably with RadCalc.

MR-LINAC technology calls for smart solutions - THALES 3D MR SCANNER

The motorized water phantom THALES 3D MR SCANNER met with great interest from users and future users of the MRIdian. Daan Hoffmans, physicist at Amsterdam UMC, is a user of the MRIdian LINAC from Viewray and a test user of the THALES 3D MR SCANNER*. He was able to share his previous user experiences with interested parties and users of the MRIdian in a daily 15-minute presentation. Currently, picking and regular quality control for the MRIdian is only possible manually, which means a lot of time and effort. THALES 3D MR SCANNER enables the fully automated and time-saving implementation of key steps. This includes the construction of the water phantom itself and the measurements performed with the phantom.

Efficient products from LAP

Every step in radiotherapy requires the highest possible accuracy in order to precisely irradiate the tumor. At ASTRO, LAP presented a broad portfolio for quality assurance in radiation therapy. As the market leader in the field of lasers for patient alignment, various laser bridges for CT and MR were exhibited at renowned manufacturers such as Philips, Siemens, Canon and GE. Interested visitors had the opportunity to see the structure as well as the configuration possibilities live.