APOLLO MR3T Laser Receives FDA 510(k) Clearance
APOLLO room lasers are the most frequently used positioning lasers for radiation therapy worldwide. Now the MR-safe version, APOLLO MR3T, has also been registered as a medical device under a 510(k) clearance. The MR-compatible room laser is currently the only product in its class approved by the FDA.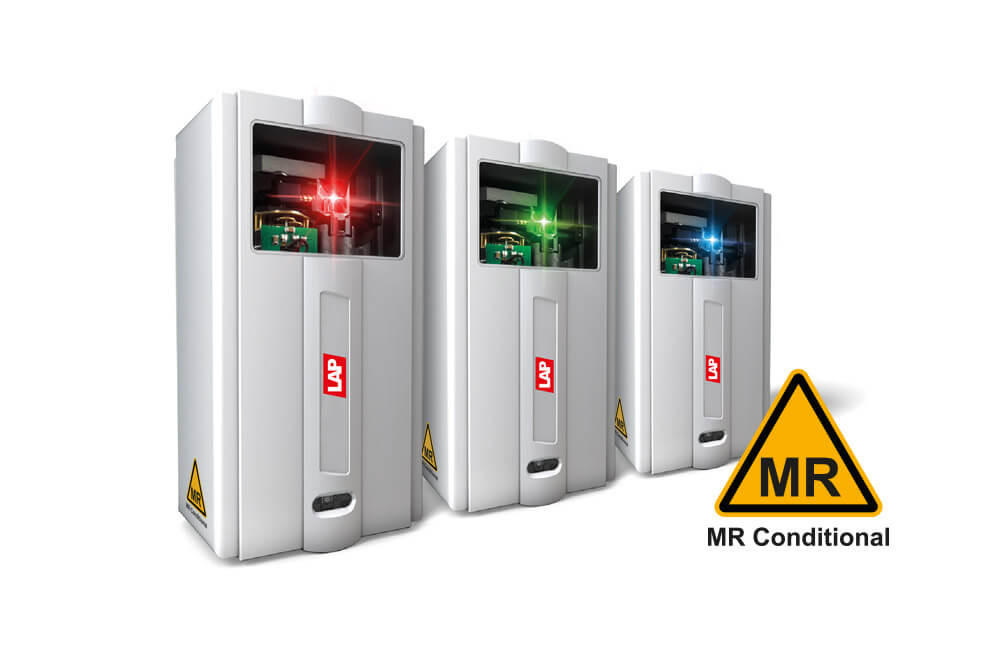 APOLLO MR3T are high-precision room lasers for patient positioning in an electromagnetic environment. They are used in classical radiation therapy for patient positioning during imaging with a magnetic resonance tomograph (MRT) and in MR-guided radiation therapy with MR-LINAC. During regular quality assurance, test phantoms such as the newly developed THALES 3D MR SCANNER are placed quickly and easily with the help of certified lasers.
No influence on imaging
The components of the APOLLO MR3T have minimal ferromagnetic properties and have no influence on the imaging. They are magnetically safe and optimally adapted to magnetic field strengths up to 3 Tesla.
"APOLLO MR3T is available as a single laser or as a customized laser bridge to meet the requirements of any room situation. This offers maximum flexibility even in confined spaces," explains Michael Uhr, Product Manager at LAP.
Stability, precision and easy handling
A high-quality aluminum housing reliably protects the fine mechanics and optical components inside the APOLLO MR3T. Break-resistant glass withstands all the stresses and strains of everyday clinical life. Even at a distance of 4 meters, the maximum width of the laser line is 1 mm. The line straightness within the line shows only submillimeter deviations even at a distance of 3 meters. The adjustment of the lasers is conveniently controlled via remote control. The fast and stepless adjustment of laser position and focus saves time for QA tasks and irradiation.
Products for radiation therapy at ASTRO in Chicago
The most important congress for radiological oncology will take place in mid-September in Chicago (USA). The market leading QA software for independent verification of the radiation dose, RadCalc, as well as the current prototype of the motorized water phantom for order picking and quality assurance of MR-LINACs, THALES 3D MR SCANNER, are the main exhibits of LAP. APOLLO MR3T lasers and other QA phantoms will also be shown. LAP systems with movable lasers for patient positioning on CT and MRT can be found on the stands of LAP partners Philips, Siemens, Canon and General Electric.
Jennifer Stommel
Marketing Manager
LAP GmbH Laser Applikationen
Zeppelinstr. 23
21337 Lueneburg