Interview: Helping steelmakers secure quality
Fabian Beck, Director Global Sales, and Volker Gödecke, Sales Manager at LAP Measurement Technology, give a positive outlook on the business development of laser measurement systems for the steel industry.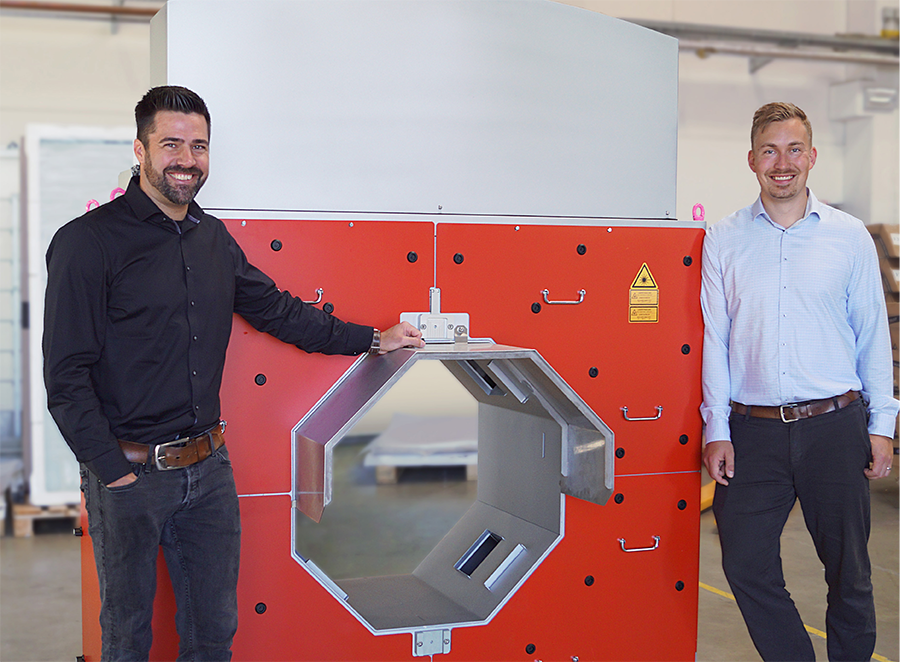 LAP, a leading supplier of high-precision laser measurement systems, supports steel production via its quality assurance and process optimization in rolling mills. Fabian Beck, Director Global Sales, and Volker Gödecke, Sales Manager at LAP Measurement Technology, expect the growing quality demands in steel production will drive business.
How are things at LAP? Is the steel industry keeping you busy?
Yes, absolutely. Many customers are now investing heavily in the quality assurance of their products. Avoiding rejects is an important issue. We are, of course, pleased about this trend. We receive many inquiries from steel-producing companies worldwide about our laser measurement systems. With the foundation of LAP Measurement Technology GmbH in 2021, LAP is very well positioned to serve our markets even more flexibly in the future.
How do you assess the current situation of the global steel industry?
One of the overarching themes that the steel industry is currently dealing with is how to make steel 'greener'. Rising oil and gas prices have made this question even more urgent, with many steel producers turning to alternatives such as solar energy or hydropower. The switch to greener energy sources will require a major effort if the steel industry is to become climate-neutral by 2050.
In which sector of the steel industry does LAP mostly conduct its business?
LAP's laser-based non-contact measurement systems are the leading solution for quality assurance and process optimization in rolling mills. We cover the entire rolling process and offer laser technology for high-precision measurement of diameter, ovality, and surface defects of complex and different steel profiles: wire rods, bars, rebars, and tubes. This enables us to help steel manufacturers deliver the required quality and avoid scrap. We are a pioneer in this field and have been at the forefront for nearly 40 years.
Where in the world are you currently busiest?
We supply leading steel producers around the world with our systems. We are currently most active in Europe and Asia, closely followed by the USA. We see high growth potential for all three markets in 2023.
What are your views on Industry 4.0 and steelmaking, and how, if at all, is LAP using it?
This is an important topic. Digitalization continues to advance. Steel producers want to exploit the full potential of their data to optimize their production processes. This is where our Industry 4.0 software solution comes in. The SMART CORE PRO software provides users of CONTOUR CHECK SHAPE systems with all the geometry data relevant to the rolling process, which can be applied in real time directly in the process line as well as in the data structures of an Industry 4.0 production environment.
How quickly has the steel industry responded to 'green politics' in terms of making the production process more environmentally friendly, and are they succeeding or fighting a losing battle?
The steel industry has to invest much money without making higher profits. Because there has been a lot of pressure in the past, most manufacturers now must start switching to cleaner production processes. This is something they will have to do for the next 20 to 30 years.
In your dealings with steel producers, are you finding that they are looking to companies like LAP to offer them solutions in terms of energy efficiency and sustainability? If so, what can you offer them?
In rolling mills, the demands on the dimensional accuracy of the rolled products are increasing, and defects in the rolling process or in the product should be detected before rejects are produced. We offer measuring systems to avoid rejects, to shorten the adjustment time after a roll change, and to better qualify profile deviations and surface defects of the end product. These are all measures to increase process efficiency and thus reduce costs and the use of resources. LAP can draw on the experience of more than 400 measuring systems installed worldwide.
Where does LAP lead the field in terms of steel production technology?
We can justifiably claim that LAP is a leader in the detection of surface defects. With our high-precision laser measuring systems and intelligent evaluation software, we are able to detect the smallest surface defects, such as scale scars, scratches, and roll breaks, immediately during production. The clear, automatic classification of rolling defects allows their causes to be eliminated in a targeted manner. In addition, the system detects and analyses shape deviations caused, for example, by roll misalignment and wear or surface defects.
How do you view LAP's development over the short-to-medium term in relation to the global steel industry?
We expect the business to continue to grow. As the demand for quality assurance systems increases, we are also continuously developing our systems to meet market needs and keep pace with increasing requirements.
What is LAP's experience of the Chinese steel industry?
LAP is an established player with many years of market experience in China. To be close to our Chinese customers, we have been present since 2002 with a representative office and since 2013 with a subsidiary in Shanghai and local partners. The market for laser measurement systems is growing faster in China than elsewhere. Due to the increasing demand for quality monitoring systems, we expect continued dynamic growth.
How optimistic are you for the global steel industry going forward, and what challenges face global producers in the short-to-medium term?
Despite the global upheavals, we remain very optimistic for our sector. We are certain that the steel industry will continue to invest in process optimization and quality assurance solutions in the coming years.
What exhibitions and conferences will LAP be attending over the next six months?
This year, we have presented and are scheduled to present at several regional and international industry events. We look forward to METEC and AISTech in 2023. We also speak at trade conferences where we seek direct contact with the industry and our customers.
Read the full interview in the November/December issue of Steel Times International (pp.50-51) here.
Follow us also on Linkedin: LAP Laser Measurement