Successful donation campaign at DEGRO 2017 in Berlin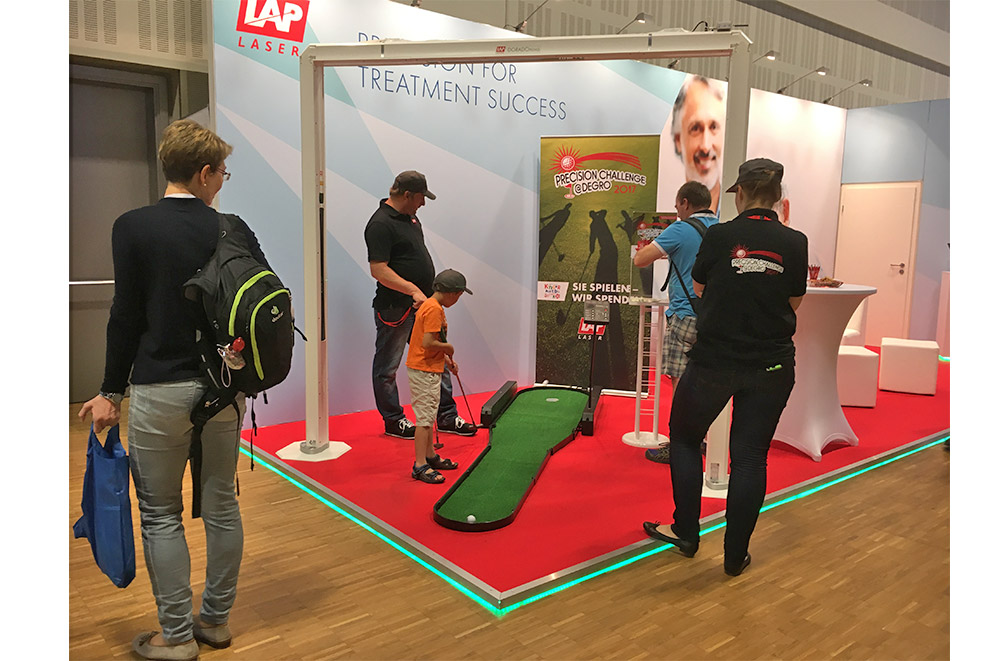 The 23rd congress of the German Society for Radio-Oncology (DEGRO) attracted a specialist audience of over 3,000 interested physicians, physicists and medical-technical assistants to the federal capital Berlin. 60 companies presented their products for radiation therapy at the exhibition area.

LAP laser systems are used for patient positioning in nearly all radiotherapy centers in Germany. One of the most important criteria for treatment success is precision. In addition to accurate imaging, planning and irradiation a precise and reproducible position of the patient is crucial.

According to our slogan "Precision for Treatment Success" our this year's booth motto was "Precision Challenge @ Degro 2017". On the indoor putting green at our booth we invited participants of the DEGRO to hole the ball at a distance of two and a half meters. On success, we promised to donate five Euros to the German Children's Cancer Foundation. The interest was, of course, huge and so the visitors managed to "sink" the golf ball 265 times.
The donation sum we gladly rounded up and we are happy to support the important work of the foundation with 1.500,00 Euro. DEGRO 2017 was a successful event for the Business Unit Healthcare of LAP with many discussions, suggestions and positive customer feedback.
Thomas Armbruster
Marketing Manager
LAP GmbH Laser Applikationen
Zeppelinstr. 23
21337 Lueneburg