Collaborative product innovation: mapping the A to Z of the SGRT clinical opportunity
LAP's LUNA 3D is being billed as the 'New More' in surface-guided radiotherapy (SGRT), exploiting high-resolution stereoscopic cameras to position and monitor the patient's external surface throughout radiation treatment.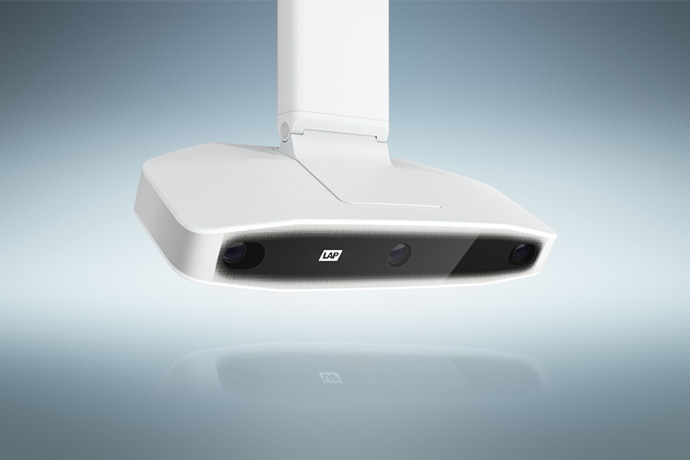 The LUNA 3D surface-guided radiotherapy (SGRT) system is designed to provide end-to-end patient positioning and monitoring from CT simulation through to the treatment delivery for bore-type and C-arm linacs. Developed by German laser and radiotherapy QA specialist LAP, and officially unveiled this week at the ASTRO Annual Meeting in San Diego, California, LUNA 3D exploits high-resolution CMOS stereoscopic cameras to support precise, dose-free patient set-up and monitoring for advanced radiotherapy modalities, ensuring that the patient remains in the planned position for the duration of the treatment workflow.
For context, SGRT represents a significant diversification and evolution of LAP's existing healthcare portfolio. That product offering, to date, spans patient positioning (for efficient surface marking of tumour position during CT/MR imaging and correct patient set-up ahead of treatment); RadCalc software for dosimetric verification in patient QA; a range of hardware phantoms to support MR imaging and radiotherapy QA; as well as multileaf collimators for precise beam-shaping and targeted tumour irradiation.
"What's just as significant," explains Thomas Speck, LAP's vice-president of new product solutions (healthcare), "is that LUNA 3D leans into – and directly benefits from – LAP's accumulated domain knowledge in laser projection and laser metrology serving industries as diverse as steel production, composite processing and concrete parts manufacturing."
With all those dots to join, the move into the SGRT market represents one of LAP's most ambitious product development initiatives yet. "Alongside all the technology innovation that's gone into LUNA 3D," notes Speck, "we have implemented a far-reaching transformation programme across core business functions – including sales and marketing, technical support and training, also our early-stage engagement with the clinical community and 'lighthouse customers'. That realignment will ensure we are positioned to take full advantage of the commercial and clinical opportunities in SGRT."
Delivering the clinical upside
Operationally, the LUNA 3D value proposition is all about ease-of-use for the radiation oncology team. That means intuitive and flexible browser-based user interfaces; pre-defined "treatment steps" for quick and easy selection of SGRT parameters; and synchronized data presentation across in-room displays (including tablet devices) and control-room workstations. Workflow support is also designed to be as friction-free as possible with a virtual laser for fast and easy patient set-up; automated import of patient and treatment data; and all SGRT data easily accessible by clinical staff for preparation, reporting and decision-making throughout the treatment cycle.
"Automation is hard-wired across the LUNA 3D workflow," says Speck. "That's because we simply can't countenance any extension to the allocated treatment slots or additional requirement for specialized staffing. In this way, SGRT takes things to the next level, yielding new capabilities in that niche between laser-based patient positioning and patient QA."
With more data points to guide patient set-up and alignment on the treatment couch, the expectation is that LUNA 3D will help clinical teams to fast-track the continuous improvement of their processes and treatment outcomes. At the same time, SGRT supports the online monitoring of patient position during treatment – a must-have for advanced treatment techniques like deep-inspiration breath-hold radiotherapy (which maximizes separation between the heart and lungs during radiation delivery to the latter) or stereotactic radiosurgery with couch rotation (for delivery of high-dose single fractions to small, precisely located tumour volumes).
Another notable feature of LUNA 3D is the system's built-in scalability – essentially an SGRT solution that can be tailored to a range of user budgets for new CT and linac installations or upgrades (and without adversely impacting the time taken for linac installation, commissioning and QA). All of which is reinforced by a comprehensive SGRT training package, with classroom training to address workflow basics followed by hands-on experience and go-live support in the treatment room. After commissioning and acceptance, for example, it is envisaged that LAP application specialists will be in attendance while the clinic puts the LUNA 3D system through its paces on the initial cohort of patients.
Collaborative innovation
Zooming in on product development and technology innovation, it's evident that LUNA 3D is very much the outcome of a collective and cross-disciplinary effort. "Throughout the journey from project initiation to finalized SGRT offering," says Speck, "LAP's R&D and product engineering teams worked hand-in-hand with a network of clinical partners at the sharp-end of treatment delivery. Our goal was to understand – in granular detail – how to design an SGRT clinical workflow that's as easy to implement as the workflow for a positioning laser."
It helps, in this regard, that LAP can tap into an established global consortium of clinical partners, with each site offering varying levels of engagement – whether that's clinical consultancy, participation in usability studies, or beta-testing of the early-stage SGRT product demonstrator in a preclinical setting. As a result, clinical feedback "from the field" informs all aspects of the LUNA 3D product design: from the hardware and optical profiling capabilities through software development, automated workflows, as well as the implementation of open data interfaces to ensure seamless integration of SGRT with other systems in the treatment room.
Right now, for example, LUNA 3D is being evaluated at several early-adopter sites around the world – among them Pius Hospital in Oldenburg, Germany; CCGM Clinique Clémentville in Montpellier, France; and Penn Medicine in Philadelphia, PA, US.
When it comes to the specifics of product roll-out, LAP is aiming to have LUNA 3D cleared for full commercial release in the US in the final quarter of this year – pending 510(k) approval from the US Food and Drug Administration (FDA) – while the CE mark on the same timeframe will provide a green light for sales to clinical customers in the European Economic Area. Speck and his colleagues have also initiated the regulatory approval processes for priority markets in Asia, including Japan, Singapore and Korea.
LAP offers different LUNA 3D service packages to meet individual customer needs including, for example, annual maintenance, software/hardware upgrades, installation and training.

LUNA 3D is 510(k) pending (K232031) – not available for sale in the US. Availability of products, features and services may vary depending on customer location.

The article was first published on Physics World.
LUNA 3D represents an ambitious extension to LAP's patient positioning and QA portfolio for radiotherapy. Other key take-aways include:
The SGRT system works independent of patient skin tone owing to blue-coloured speckle projection.
Multiple displays (including tablet devices) in the treatment room ensure the clinical team has all key SGRT data in its line-of-sight (as well as remote data access via mobile devices).
All necessary calibration and QA tools are supplied as standard, including expandable LAP EASY CUBE phantom.
Site-specific installation is conducted by LAP room-planning experts and service personnel.